About George Lawrence

George Lawrence (b. 1954) has been the sole proprietor of George Lawrence Design on the Mendocino coast since 1986. With a college background in art and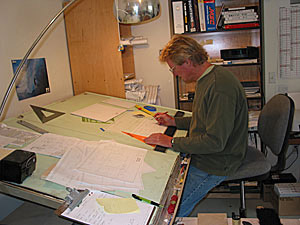 design combined with over 30 years of experience in the woodworking trades George takes great pride in presenting a unique perspective to the planning, production, and completion of a project. He strives to be well informed in all aspects of interior design from hardware to lighting to countertop materials in an effort to harmonize cabinets and furniture with their surrounding. Understanding traditional and modern styles enables George Lawrence Design to affectively interface with architects and clients.


Design- Cabinets- Fine Carpentry- Furniture